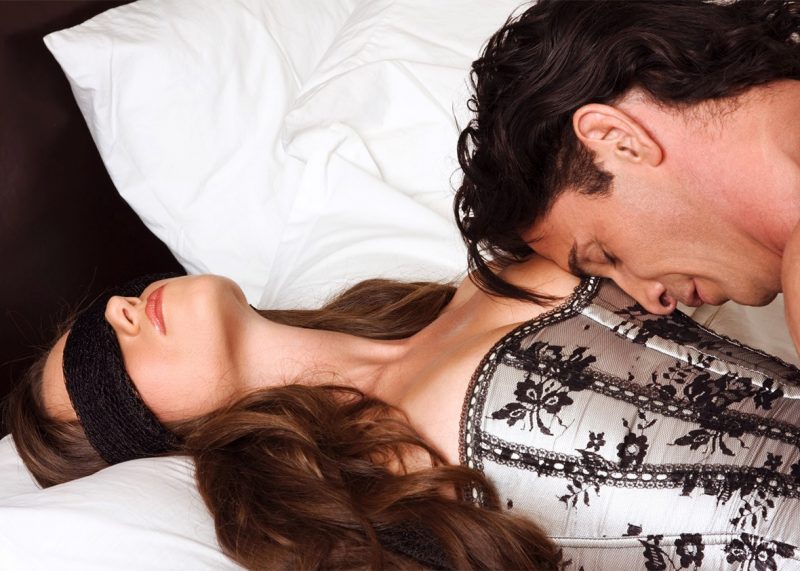 Mojoupgrade, the sex improver
You are stuck. Your bed is the boringest place ever. Creativity is limited to the 3-5 minutes sex session with your partner, if you are lucky. Always the same. The worst part is that we (I include myself) don't know anything about the sexual fantasies of our partner. We assume that we know but the reality is we don't. And to make things worse we are afraid to ask. What about talking about our own fantasies? No way whatsoever. For some strange reason most of us become mutes when time to talk about sex with our partners comes. I don't know why most of us are so shy.
There is solution: Mojoupgrade, the way to discover your Partner's Hidden Sexual Fantasies
What is Mojoupgrade?
Mojoupgrade is an online confidential questionnaire that must be filled by your partner and you separately. It can be filled in the same computer or in two different ones.
The method is simple: you answer a set of questions about sexuality and sexual fantasies that you like or would like to experience. The alternative 4 answers are: Yes, No, We already do that, If my partner is interested.
Once the questionnaire have been completed you only will see the answers that both of you responded with "Yes" or "If my partner is interested". 
If in one question you answered "no" and your partner "yes" or "If my partner is interested", that result will not be showed.
Example: 
Question: "roleplay in costumes"  if I say "yes" and my partner "no" – This question will be eliminated from the final report.
Questions are related to a wide range of sexual fantasies and activities. Some of them I didn't even know that existed ! Some are funny some weird and extravagant. But who am I to judge!
Anyway, it will take both about 10 minutes to complete the survey.
Is important to clarify that neither of you will access your counterpart answers. Just the coincidences. So if your partner wants to experience a threesome and you don't, none of you will ever know. 
These are the Questions Categories and some questions (not all, of course)
The Basics and then Some
Examples:
have partner give me a sensual massage
take pictures of partner
have pictures taken by partner
take pictures of us having sex
strip or give a lap dance to partner
have partner strip or give me a lap dance
film ourselves having sex
Playing with Toys
Examples:
use dildos in sex
use vibrators while having sex
wear a cock ring (vibrating/non-vibrating) during sex
B.D.S.M.
Examples:
have a weapon (knife, gun) directed at me during sex (knife and gun play)
direct a weapon (knife, gun) during sex (knife and gun play)
wear earplugs during sex
have partner wear earplugs during sex
slap partner's face during sex
Anal Play
Examples:
anally fist partner
be anally fisted by partner
anally finger partner
be fingered anally by partner
anally penetrate partner
Group and Public Fun
Examples:
be bukkake'd by partner and other men
be bukkake'd by partner and other men
fondle partner in a public setting (restaurant/theater)
be fondled by partner in a public setting (restaurant/theater)
Other Fetishes
Examples:
give partner a foot job
be given a foot job
douse ourselves in oil/mud/paint/milk/pies during sex
use chemicals (menthol, toothpaste, ben-gay) on partner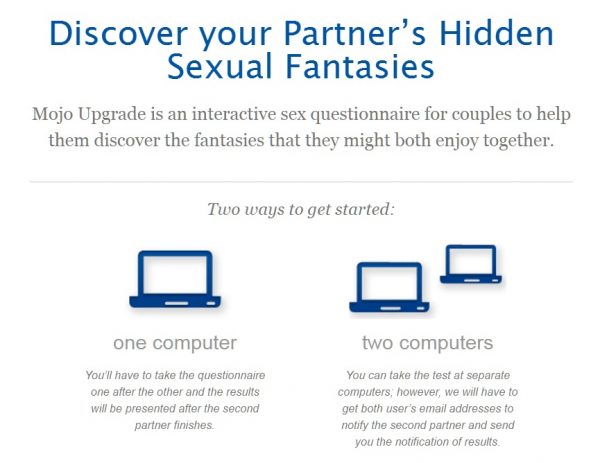 Mojoupgrade is a nice approach to a better sexual life. You will have fun answering the questions and if you add a good communication with your partner then you found the winning formula for great sexual satisfactions.